By: Seth J. Frantzman and Omar Mohammed
One year after Iraq's second largest city was liberated from the clutches of ISIS, Mosul's diverse and rich past is slowly coming back to life.
One of the most fascinating sites to emerge after the defeat of ISIS has been one of the ancient Jewish synagogues of Mosul.
ISIS took control of Mosul in June 2014 and held it for almost three years, subjecting many religious sites — including ancient Muslim tombs, Yazidi temples, Shi'ite mosques and Christian churches — to systematic destruction. The city's thousands of years of history that ISIS didn't destroy was badly damaged during nine months of battle between ISIS and the Iraqi army that stretched from October 2016 to July 2017. The Old City of Mosul, on the west side of the Tigris river, was obliterated in fighting as ISIS attempted to hold every street. In June 2017, the extremists blew up the ancient Nuri mosque, an exquisite symbol of Mosul.
From the ruins has emerged a vibrant desire by local residents to revive the city's history, cultural life and diversity. Residents who suffered under ISIS rule, as well as returning refugees, want to bring a new energy to the city as a way of showcasing both the diversity of the past and a future that will never again surrender to the extremism of groups like ISIS. "After Daesh [ISIS] everyone wants to make their life better – to get out of the bad period we were in. So we all want to move on," Raffal Khaled told the Sawab Center, which works against online extremism.
Sisters Raffal and Farah Khaled, students at #Mosul University in #Iraq, stand outside the university library. #Daesh terrorists burned and destroyed most of the library books, but they could not quell the desire to learn. #AfterDaesh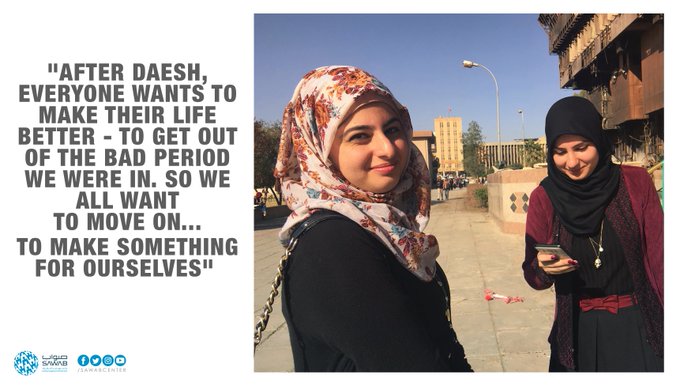 221:00 AM – Jun 30, 2018Twitter Ads info and privacySee مركز صواب's other Tweets
"It's great to see Yazidi students back in Mosul, something we would never comprehend a year ago," tweeted Murad Ismael, executive director of Yazda, an organization that works with Yazidis who suffered genocide under ISIS.
It was great to meet today some of the 700+ Yazidi students from University of Mosul who are staying in Bashiqa. It's great to see #Yazidi students back in Mosul – something we would never comprehend a year ago!!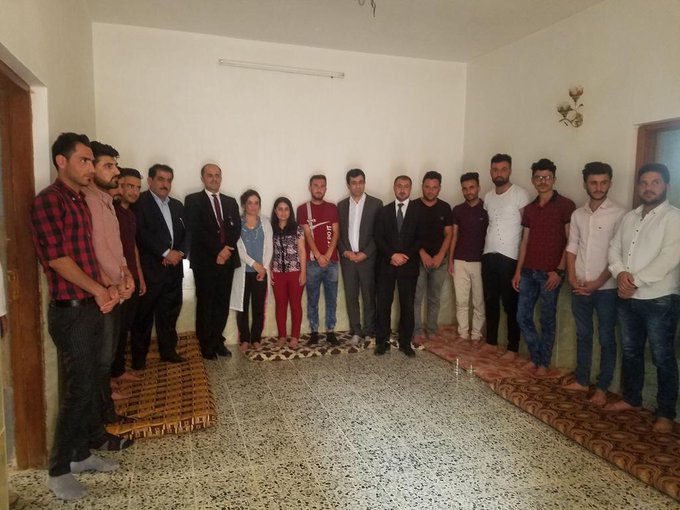 1156:03 PM – May 22, 2018Twitter Ads info and privacy46 people are talking about this
The local library has once again begun collecting book donations, the university is being renovated, and Moslawis, as the city's resilient residents are called, are once again holding cultural events. UNESCO has also started a campaign to "revive the spirit of Mosul" which will focus on reconstruction and recovery of Mosul.
Perhaps one of the most extraordinary developments in the city is the discovery of remains of the ancient Jewish presence in Mosul. This includes Old Mosul's synagogue, its walls tinted with blue, and a Hebrew inscription over a door, that was recently unearthed. Working with local photographers and residents, these Jewish sites are being uncovered from the rubble.
Mosul once had a thriving Jewish community whose roots stretch back to the 8th century B.C.E. There are tombs in and near Mosul that commemorate the biblical prophets Jonah and Nahum — ISIS blew up the tomb of Jonah, known as Nabi Yunis in Arabic, in July 2014.
Many other local Jewish sites were known to local people but were kept secret after the last Jews left Mosul. The community secreted away inscriptions and items with family friends; these were passed down or left aside to collect dust. The fact that they were hidden kept them safe from ISIS invaders. Some of the sites, such as the synagogue, were used for other purposes — ISIS turned the synagogue into a storage area for bombs and used it as a hideout to avoid coalition airstrikes, according to the Voice of America. The former Jewish quarter in Mosul was called 'Mahalet al-Yahud' (Jewish neighborhood), and now it's called 'Ahmadiya'.
After the destruction from the 2017 fighting subsided, we found a local resident who asked to remain anonymous and was posting photos that were circulating privately online of inscriptions and old buildings. He didn't know what the pictures were of, but someone noticed the Hebrew letters. Residents thought one of the buildings was "just rubbish." We checked it out and the writing on a stone lintel was indeed in Hebrew. It is not surprising that people thought the site was "rubbish" — an American soldier wroteabout finding the building in 2003 and described it as a "garbage dump."
Mosul Eye عين الموصل✔@MosulEye
Anyone can read and translate the Hebrew inscription, please?
One of the Jew's houses in old Mosul, unfortunately, it was destroyed by an airstrike, and this is what's left of it.
26010:34 AM – Jun 18, 2018Twitter Ads info and privacy192 people are talking about this
Since then, locals have found another building buried in rubble underground that they believe used to be a synagogue, as well as an old Jewish girls school and other items from the long-gone Jewish community.
Since we first posted photos online on Twitter, descendants of Jews from Mosul have corresponded via Twitter, recalling family memories from the city. "Wow, amazing, my mother was born in Mosul. It is going to be exciting for her [to see the photos]. Maybe it's the synagogue she went to with her father on Shabbat morning when she was a little girl," Ronit Yamin tweeted to us.
Yona Sabar, a Jewish scholar from Zakho and professor emeritus at the University of California Los Angeles told the local Kurdish media outlet Rudaw that the inscriptions found were from Deuteronomy. One of the inscriptions posted online referred to a leader of Mosul's Jewish community who lived in the early 20th century and helped build a section of the Sasson Synagogue in Mosul.
The challenge now is to preserve these sites and items, Iraqi locals say. There are many hurdles, not least of which is that the city needs major reconstruction a year after its liberation. Religious sites face other threats as well. In Iraq, since the defeat of ISIS, there has been a stream of smugglers looting Iraqi antiquities, and scholars are concerned that local Jewish heritage items might be next.
"Iraq, which has stood up in the face of terrorism and triumphed, is fully aware of the power of culture to bring back hope and peace, and restore the agricultural sites, museums, buildings and intangible heritage that terrorism has destroyed," Fryad Rawandouzi, Iraq's Minister of Culture, Tourism and Antiquities, told Gulf News. "Culture contributes to peaceful coexistence."
Seth J. Frantzman is writing a book on the defeat of Islamic State and covered the battle of Mosul last year when it was in the process of liberation. Omar Mohammed runs the blog Mosul Eye, is a PhD researcher on the history of Mosul and survived the war under ISIS while blogging anonymously about the city's history and endurance.